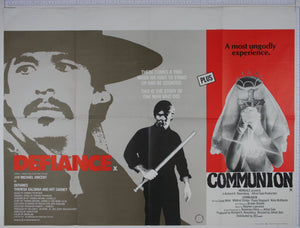 Horror Poster Emporium
Communion / Defiance (1976 / 1980) UK Quad Poster
Regular price
£40.00
£0.00
Tax included.
Otherwise known as Alice, Sweet Alice, Alfred Sole's sleeper classic gets better with age. His first, a sex film - Deep Sleep (funded by the mob who 'removed' a talkative actor) embroiled him in the underbelly of New Jersey filmmaking. There's still a rough edge to Communion, and his use of unfamiliar faces adds to the timelessness of the atmosphere. Yes, it's Brooke Shields' feature debut, but much more than that. A great, disturbing piece, with a suitably macabre masked and rain-coated killer. Sole eventually gave up the relentless hustle of making low budget movies and became a highly respected Production Designer instead.
On a double bill with Defiance, another New York-set drama from John Flynn, the director responsible for the brilliant The Outfit (1973) and Rolling Thunder (1977). Seaman Jan Michael Vincent stands up to the local gang 'The Souls', and inspires others not to live in fear.
Artist: Unknown – Defiance is rather lacklustre, but Communion employs an otherwise unused variant on the artwork, where the blade is fused to a crucifix.
Condition: VERY FINE
Cast: Linda Miller, Mildren Clinton, Paula E. Sheppard, Brooke Shields, Alphonso DeNoble / Jan-Michael Vincent, Theresa Saldana, Danny Aiello, Lenny Montana, Frank Pesche

---