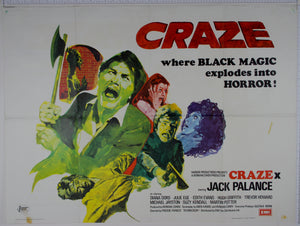 Horror Poster Emporium
Craze (1974) UK Quad Poster
Regular price
£125.00
£0.00
Tax included.
Herman Cohen, the American producer who had resided and worked in the UK since the success of Horrors of the Black Museum (1959), brought Jack Palance over for Craze. He plays an antiques dealer in thrall to the statue of an African god, which demands frequent blood sacrifices - a task he becomes only too willing to perform.
Another film director Freddie Francis casually dismissed, as though the finished result was nothing to do with him – it's lacklustre in execution, but the extraordinary cast make up for it. Cohen's loyalty to actors who've worked for him before means there are several alumni in the cast – he even tried to get Michael Gough for the Police Inspector role. It was Cohen's penultimate film. 

Aka: The Infernal Idol, Demon Master, Mystic Killer, Un tueur sous influence (1976RR)
Artist: Arnaldo Putzu
Condition: VERY GOOD / FINE - Tape marks to bottom edge, printer registration marks top left / right, tape strengthening to rear folds

Cast: Jack Palance, Diana Dors, Julie Ege, Edith Evans, Hugh Griffith, Trevor Howard, Michael Jayston, Suzy Kendall, Martin Potter – soon to be Satan's Slave (1976), Kathleen Byron, David Warbeck – shortly to head to Italy and The Beyond (1981), and the indomitable Percy Herbert – everything from Night of the Demon (1957), Mysterious Island (1961) and One Million Years B.C. (1966) to The Wild Geese (1978).
---