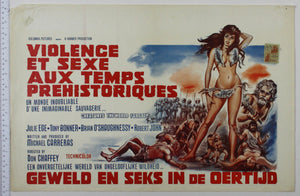 Horror Poster Emporium
Creatures the World Forgot (1971) Belgian Poster
Regular price
£45.00
£0.00
Tax included.
In a caveman film called Creatures the World Forgot, one might reasonably expect some animated dinosaurs. But since the creatures are limited to a porcupine, a pig, a snake and a man in a bear costume, director Don Chaffey - One Million Years B.C. (1966) had to compensate with even more nudity (from both sexes) than When Dinosaurs Ruled the Earth (1970).
Julie Ege had just given birth prior to filming, but trooper that she was, entered into proceedings with gusto. Anthony Marriot – The Deadly Bees (1966) came up with a sequel to One Million Years B.C. featuring giant bats, spiders and crocodiles. Michael Carreras rewrote to remove the more fantastical (and expensive) elements, but even his woolly mammoth and giant anteater disappeared as the budget was endlessly pared down, and the screenplay laid most emphasis on human brutality and sexuality.  
Aka: Sex vor sechs Millionen Jahren, Uga-Uga - ihmishirviöiden maa
Artist: Unknown
Condition: FINE - Paper loss and tape repair top left, pinholes and dinks top right

Cast: Julie Ege, Tony Bonner, Robin John, Brian O'Shaughnessy, Rosalie Crutchley, Marcia Fox, Sue Wilson - for most of the rest of the cast, Creatures was their one and only credit.
---