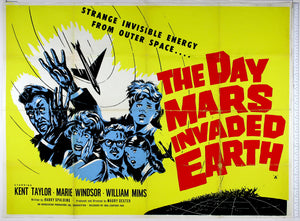 Horror Poster Emporium
Day Mars Invaded Earth (1962) UK Quad Poster
Regular price
$149.00
$0.00
Tax included.
Unfortunately the title promises more Earth vs. the Flying Saucers than this thoughtful sci-fi piece, which is more on a par with Invasion of the Body Snatchers (both 1956). After a Mars probe is destroyed, Martians travel to Earth to inhabit the bodies of the scientist responsible, as well as his family. Each member of the family encounters their doppelganger, in reality energy manifestations of the Martians who have come, not just to stop the invasion of their world, but much like the pod people, to take over Earth themselves.
Written by Harry Spaulding – Witchcraft (1964), Chosen Survivors (1974), The Watcher in the Woods (1980) and directed by Maury Dexter - Django the Honorable Killer (1965), It's a rare starring role for Marie Windsor, with solid support from Kent Taylor. Shot at the imposing Greystone Mansion in Beverley Hills, the location itself has an impersonal, alien air, accentuated by Richard LaSalle's other-worldly score.
Condition: VERY GOOD - Edge dinks, creasing on folds, tears right hand edge, cracking and separation in right hand crossfolds.

Cast: Kent Taylor, Marie Windsor, Betty Beall, Gregg Shank, William Mims, Henrietta Moore
---