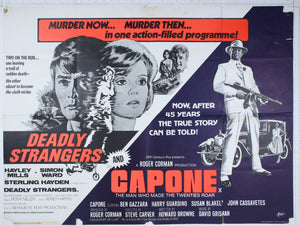 Horror Poster Emporium
Deadly Strangers / Capone (Both 1975) UK Quad Poster #New
Regular price
£15.00
£0.00
Tax included.
Sidney Hayer's twisting psycho-thriller, with Simon Ward reverting to his creepy persona after the same year's more wholesome All Creatures Great and Small. Hayley Mills said a slow farewell to her Pollyanna image with The Family Way (1966), Twisted Nerve (1968) and Endless Night (1972). A nude scene reminiscent of Perkins watching Leigh in Psycho had the same shock value as Juliet Mills' in Avanti! (1972), as two mismatched people - one an asylum escapee - are pursued by the authorities.
Ben Gazzara and John Cassavetes star in Roger Corman's production of Capone. Directed by Steve Carver, who started with The Arena and Big Bad Mama (both 1974), and went on to two enjoyable Chuck Norris actioners An Eye for an Eye (1981) and Lone Wolf McQuade (1983), it was 'like the cheesy, mentally challenged inbred cousin of The Godfather', according to Sylvester Stallone, with an early career performance as Capone's enforcer, Frank Nitti.
Condition: POOR - Multiple paper loss, tears, tape residue
Cast: Hayley Mills, Simon Ward, Sterling Hayden / Ben Gazzara, Harry Guardino (Dirty Harry's put-upon Captain), Susan Blakely, John Cassavetes and of course, Dick Miller.
---