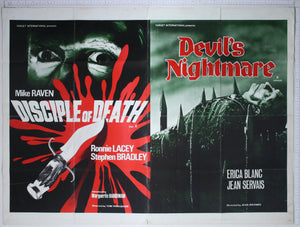 Horror Poster Emporium
Disciple of Death / The Devil's Nightmare (1972 / 1971) UK Quad Poster #New
Regular price
£75.00
£0.00
Tax included.
Disciple of Death was Mike Raven's vanity project, which he starred in, produced (as Charles Fairman - Mike's real name being Austin Churton Fairman) and co-wrote (as Churton Fairman). The resultant mess was so poorly received, he never acted again. Playing on his 'real-life' penchant for Satanism and the occult, this was meant to be the culmination of his rise as a new horror star, afer his less than stellar appearances in I, Monster, Lust for a Vampire and Crucible of Terror (all 1971).

The Devil's Nightmare has seven unlucky victims (each representing one of the Deadly Sins) arrive at an ex-Nazi's castle, where nudity and murder breaks out, in Jean Brismée's only feature film. Hatchet-faced Daniel Emilfork - Hunchback of Notre Dame (1956), The Thief of Baghdad (1978), City of Lost Children (1995) appears as Satan, aided by exploitation queen Erika Blanc, a mysterious visitor who kills each of the seven in a manner appropriate to their sin.  
Aka: Das Monster mit der Teufelsklaue / Succubus, Au service du diable, Vampire Playgirls

Artist: Unknown, but with graphic impalement, certainly not a design approved by the Advertising Viewing Committee.
Condition: VERY GOOD - Creasing and dinks to borders, some wear on folds
Cast: Mike Raven, Ronald (as Ronnie) Lacey - Raiders of the Lost Ark (1981), Flesh+Blood (1985), Stephen Bradley, Virginia Wetherell, Louise Jameson / Erika Blanc, Jean Servais - Rififi (1955), The Magic Donkey (1970), Lucien Raimbourg, Colette Emmanuelle
---