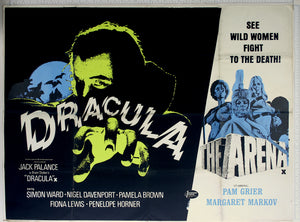 Horror Poster Emporium
Dracula / The Arena (both 1974) UK Quad Poster
Regular price
$59.00
$0.00
Tax included.
Dan Curtis shot his unfairly maligned Dracula in England (with exteriors in Croatia and Yugoslavia), the first to add the long-lost love aspect which has been the template for most versions of Dracula ever after. It was an invention of screenwriter Richard Matheson. With an image reminiscent of Dali's self portrait, it remains one of the most powerful Dracula poster designs. A US TV movie which was released theatrically in Europe, with slightly more graphic scenes added.
Although Roger Corman's The Arena is a Peplum film, all the signs are there for a classic Woman in Prison story - sadism, catfights, lesbian undertones, bondage gear and voyeurism. Even a shower scene is worked in! The cast's pedigree is perfect - Margaret Markov and Pam Grier had already starred in the WiP Black Mama, White Mama (1972), Lucretia Love from The She Beast (1966) to Enter the Devil / L'Ossessa (1974), and Daniele Vargas, whose career started in sword and sandal epics with Hercules Unchained (1959) and graduated to slashers with Umberto Lenzi's Eyeball (1975). The Arena was Vargas's sixth film of 1974.

Aka: Bram Stoker's Dracula, Drácula, O Demônio das Trevas / Naked Warriors, La révolte des gladiatrices
Condition: GOOD - uses a rare matt black ink effect, which inevitably transfers to the folds on the right, slight edge dinks, small scuff below 'Advertising Approved'.

Cast: Jack Palance, Simon Ward, Nigel Davenport, Pamela Brown, Fiona Lewis, Virginia Wetherell, Sarah Douglas, Murray Brown (who appeared in Vampyres the same year)
---