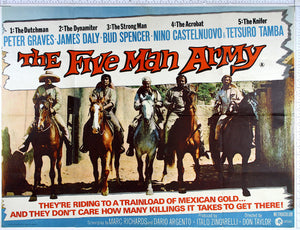 Horror Poster Emporium
Five Man Army (1969) UK Quad Poster
Regular price
£55.00
£0.00
Tax included.
One of Dario Argento's last Western writing credits before exploding onto the scene as writer / director of The Bird with the Crystal Plumage (1970). This is really a Bud Spencer movie (the first in which he dubbed his own voice) with the requisite US actors to ensure American box office. Peter Graves, famous from the long-running Mission Impossible TV series (1967 - 1973) is The Dutchman, a mysterious outlaw with his bunch of killers - The Animal uses his bare hands, Luiz, a slingshot, Gambler throws explosives and Samurai with - what else?
Shot for two markets, Don Taylor - Escape from the Planet of the Apes (1971), Damien: Omen II (1978) and Italo Zingarelli (usually a Westerns producer) shared the directing credit.
Condition: GOOD / VERY GOOD - pinholes, minor edge dinks.
Cast: Peter Graves, Bud Spencer, James Daly - who appeared in both Mission Impossible and Planet of the Apes (1968) and the enormously prolific Tetsurô Tanba, perhaps best known as Tiger Tanaka in You Only Live Twice (1967), but with Harakiri (1962), Kwaidan (1964) all the way to Sinking of Japan in 2006, the year he dies, aged 84.
---