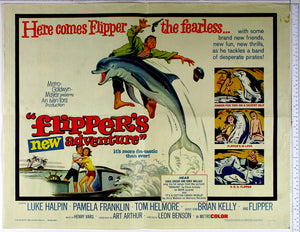 Horror Poster Emporium
Flipper's New Adventure (1964) US 1/2 Sheet Poster
Regular price
£35.00
£0.00
Tax included.
The sequel to Flipper (1963), which was created by Jack Cowden and underwater expert Ricou Browning, otherwise known as the man who played The Creature from the Black Lagoon (1954). This was released before the popular TV series aired, and outdid the original at the box office. 
Luke Halpin played Flipper's companion in the films and TV series, and here he's joined by Pamela Franklin, as the daughter of a family being kidnapped by crooks. Despite danger and an injured Flipper, all ends well. Producer Ivan Tors started in science fiction with The Magnetic Monster (1953) and Gog (1954), then making water-set TV with Sea Hunt (1958-1961) and The Aquanauts (1960 - 1961) until moving onto the animal-based films and TV for which he was famous. Zebra in the Kitchen, Clarence, the Cross-Eyed Lion (both 1965) and Africa Texas Style (1967). His specialist underwater company was also brought in to film the climax to Thunderball (1965).
Aka: Flipper and the Pirates
Condition: VERY GOOD - Creasing to edges, dinks top edge, discolouration top right edge.

Cast: Luke Halpin, Pamela Franklin - The Innocents (1961), Tom Helmore - Vertigo (1958), The Time Machine (1960), Brian Kelly, Francesca Annis, Helen Cherry, Lloyd Battista, who went on to make several Spaghetti westerns, God Forgives... I Don't (1967), The Silent Stranger (1968), Boot Hill (1969), Blindman (1971).
---