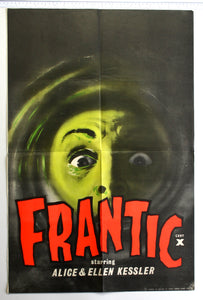 Horror Poster Emporium
Frantic (1960) UK Double Crown
Regular price
$84.00
$0.00
Tax included.
 A neglected story from Pierre Boileau and Thomas Narcejac, the authors responsible for the twisted plots of Les Diaboliques (1955), Vertigo (1958) and Les Yeux Sans Visage (1960).  A man falls for one of a pair of identical twins, who are used in their father's magic act. The other twin dies, and the father continues the illusions with mirrors - or does he? Brooding, atmospheric photography from Christian Matras - La Ronde (1950) for Max Ophüls and The Milky Way (1969) for Buñuel, and effectively directed by Serge Friedman. The alternative title, Double Deception is particularly sly!

Aka: Les magiciennes, Double Deception
Although it uses the same basic design as this Double Crown, the double bill quad for Frantic (with Seddok, or Atom Age Vampire) was a much cruder screenprint.
Condition: VERY GOOD / FINE
Cast:  Alice and Ellen Kessler, Jacques Riberolles, Daniel Sorano, Ginette Leclerc
---