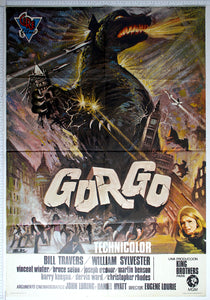 Horror Poster Emporium
Gorgo (1961) Spanish 1 Sheet Poster
Regular price
£65.00
£0.00
Tax included.
Essentially a production designer, Eugène Lourié had a brief directorial flurry of monster movies, starting with Harryhausen's The Beast from 20,000 Fathoms (1953), then the underrated Colossus of New York (1958), Behemoth The Sea Monster (1959) and Gorgo. As either Art Director / Designer, he worked on everything from masterpieces such as Jean Renoir's La Grande Illusion (1937) and La Règle du Jeu (1939), Shock Corridor (1963) and The Naked Kiss (1964) for Samuel Fuller, all the way to Burnt Offerings (1978) and his final film, Bronco Billy (1980) for Clint Eastwood.

Borrowing elements of King Kong, Son of Kong and Godzilla (it was originally set in Japan as a tribute), it's a giant dinosaur film with a happy ending. Using the Toho mixture of miniature sets and men in monster suits shot in slow motion, the effects are well realised and stand up to comparison with the Japanese films.
Artist: Esc - who cunningly added a woman to the poster for what was very much a boy's own film.
Condition: FINE - Light creases bottom left, minor edge dinks, small paper loss bottom right edge

Cast: Bill Travers, William Sylvester Devil Doll (1964), 2001: A Space Odyssey (1968), Christopher Rhodes, and the young boy Vincent Winter, who became Production Manager on films like Superman II (1980) and Indiana Jones and the Temple of Doom (1984).
---