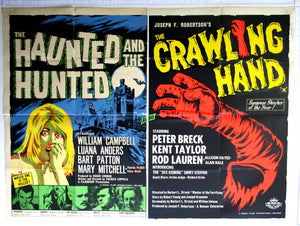 Horror Poster Emporium
Haunted and the Hunted / The Crawling Hand (1964 / 1963) UK Quad Poster
Regular price
£55.00
£0.00
Tax included.
Written and directed by Francis Coppola (minus the Ford), this was his first legitimate solo credit, barring Tonight for Sure (1962), a nudie quickie. Made under the radar for $22,000 while Roger Corman was shooting The Young Racers (1963) in Ireland, he got permission to use the sets, crew and actors providing it didn't clash with Corman's schedule. The final film is a watery tale of murder, grief and madness, shot very stylishly and – under the circumstances – beautifully lit by Charles Hannawalt, usually a key-grip. Dementia 13 was his only cinematographer credit. Visually it outdoes any of Corman's own black and white films of the period.
The Crawling Hand proves that in the 60s, when an astronaut orders ground control to destroy the ship he's on, they damn well do it – something modern space films seem incapable of. However, amongst the crash wreckage is the astronaut's severed arm, which reanimates, takes over the mind of a medical student, and begins a campaign of murder. Herbert L. Strock of I Was a Teenage Frankenstein, Blood is My Heritage (both 1957) and How to Make a Monster (1958) directs. One of the co-writers was Joe Cranston, father of Bryan.
Aka: Dementia 13, Fright Night / The Creeping Hand, Don't Cry Wolf
Condition: GOOD / VERY GOOD - paper condition very fine, but poster separated into two down the centre line - requires backing

Cast: William Campbell – Hush… Hush, Sweet Charlotte (1964), Luana Anders – Pit and the Pendulum (1961), Easy Rider (1969), That Cold Day in the Park (1969), Patrick Magee, Bart Patton, Mary Mitchel, Ethne Dunn  /  Peter Breck, Allison Hayes - Zombies of Mora Tau (1957), Attack of the 50 Foot Woman (1958), Kent Taylor, Rod Lauren (Burt Renolds auditioned twice for Lauren's part, but was deemed 'too wooden')  Richard Arlen - started in 1921, mainly in westerns, but everything from Island of Lost Souls (1932) to Won Ton Ton: The Dog That Saved Hollywood (1976).

---