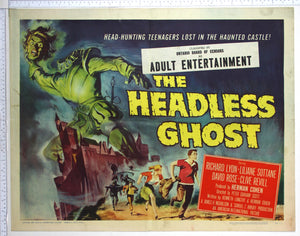 Horror Poster Emporium
Headless Ghost (1959) US 1/2 Sheet Poster
Regular price
£0.00
£0.00
Tax included.
AIP called producer Herman Cohen during the production of Horrors of the Black Museum (1959) looking for a double bill, so as to control the full production company take at the box office. He quickly came up with The Headless Ghost, written with Aben Kandel - who worked with Cohen from Young Paul Baroni (1952) all through his Teen 'I Was' monster films and up to Craze (1974). Ghost was a fitfully amusing supernatural comedy, that still drags despite its brief 62 minutes running time.
Three students hide overnight in Ambrose Castle to see if the reputed ghosts are real. When they discover they do exist, they help the spectral Fourth Earl of Ambrose to end a 600 year old curse, and retrieve his head. By shooting in the UK (at the home of the British second-feature, Merton Park Studios) quite a few British faces appear, such as Jack Allen, who appeared in Jack the Ripper (1959) and even as late as House of Mortal Sin (1976).
Artist: Reynold Brown
Condition: GOOD - border grubbiness, Ontario Board of Censors snipe

Cast: Richard Lyon, Liliane Sottane (Camp on Blood Island (1958) and retired after this), Clive Revill (here his first feature role, The Legend of Hell House (1973), David Rose, Donald Bisset (Eye of the Devil (1966) Blind Terror (1971), little Janina Faye and stage star and dancer Josephine Blake, who later became Mrs. Dick Emery.
---