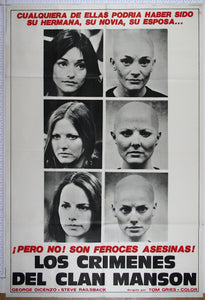 Horror Poster Emporium
Helter Skelter (1976) Argentinian 1 Sheet
Regular price
£65.00
£0.00
Tax included.
For my money, the best poster for this Lorimar / CBS two-part US TV special, which was reedited and given worldwide theatrical distribution. Sporting disturbing before and after shots of three of Charles Manson's acolytes, played by Nancy Wolfe, Christina Hart and Cathey Paine, the tagline reads: Any of them could have been your sister, your girlfriend, your wife... But no! They are ferocious killers!
Aka: Helter Skelter - Die Nacht der langen Messer
Condition: VERY FINE (Light paper stock)

Cast: Steve Railsback, George DiCenzo, Marilyn Burns, Alan Oppenheimer and way in the background as one of the family, is Eileen Dietz, soon to be the face of Pazuzu in The Exorcist.
---