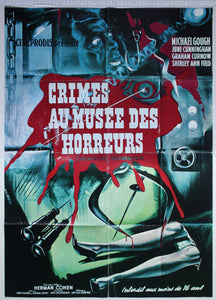 Horror Poster Emporium
Horrors of the Black Museum (1959 / 1972RR) French Moyenne Poster #New
Regular price
£35.00
£0.00
Tax included.
Harry Cohen's magnum opus, and American International's first release to be shot in both colour and Cinemascope. Director Arthur Crabtree, an old industry hand since the early 30's, had just come off the extraordinary Fiend Without a Face (1958). Cohen – a hands-on interferer, wanted a malleable director, and 'the old guy needed a job'. It's a toss up whether it was Cohen or the critical backlash that made this Crabtree's last film.
Michael Gough plays a demented, arrogant writer who hypnotises his assistant to go out and murder in creative ways, in order to write about the crimes. The infamous binoculars with spikes is a horror high, but acid baths, guillotines and ice tongs are all put to good use. It makes not a whit of sense, but that's part of it's undoubted charm. Europe quietly dispensed with Cohen's gimmick – Hypnovista – advertised on US and UK posters.
Artist: Allard
Condition: VERY GOOD / FINE

Cast: June Cunningham,Shirley Anne Field, Graham Curnow, Geoffrey Keen and perennial character actress Marianne Stone with her single line as usual.
---