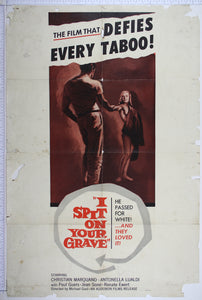 Horror Poster Emporium
I Spit on Your Grave (1959) US 1 Sheet Poster
Regular price
$33.00
$0.00
Tax included.
NOT the Camilla Keaton version, but Michel Gast's overblown riff on the likes of Pinky (1949) or I Passed for White (1960), where a light-skinned Arfican American heads to Trenton, a sleazy southern town to investigate the lynching of his brother. Irresistibly attractive to Trenton's womenfolk, he uncovers extortion, racism and jealousy while taking his sexual revenge.
It's a surreal watch, with French performers inhabiting the American deep south, and the Alpes-Maritimes of Nice standing in for the landscape. Apparently Boris Vian, the novelist on which it was based, was so aghast that he disowned the adaptation, then died during the preview. However, it boasts a lively jazz score by Alain Goraguer.
Aka: J'irai cracher sur vos tombes, Auf euren Hochmut werde ich spucken (I'll Spit on Your Arrogance)
Artist: Unknown
Condition: POOR - multiple paper loss, writing below title, edge damage, in the middle of the text there is a burn hole, as though somebody has actually attacked the poster. Somehow strangely fitting...
Cast: Christian Marquand (a fixture of French cinema, from a bit part in Cocteau's La Belle et la Bête, And God Created Woman (1956), The Flight of the Phoenix (1965), Apocalypse Now Redux / Final Cut (1979), Je vous aime (1980) and Emmanuelle IV (1984), Antonella Lualdi, Fernand Ledoux, Marina Petrova, Claude Berri, actor and director of Jean de Florette and Manon des Sources (both 1986).
---