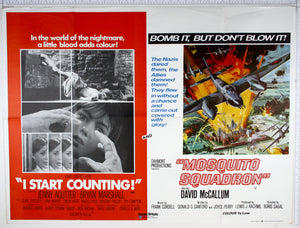 Horror Poster Emporium
I Start Counting / Mosquito Squadron (both 1969) UK Quad DB Poster
Regular price
£45.00
£0.00
Tax included.
Brilliant British thriller – sharp, sassy and sexy. Jenny Agutter in a coming of age story – where does her older brother go in the evenings – could he be the killer on the loose she hears about?
Awakening sexuality and dark thrills, convincingly rich dialogue, and a nice air of menace brought about by David Greene (The Shuttered Room (1967), who, after Madam Sin (1972) and Godspell (1973), returned to work exclusively in TV.
Mosquito Squadron was not a sequel to 633 Squadron (1964) although it's influence is felt, and this low budget variation borrows footage from it, as well as Operation Crossbow (1965) and stock footage of actual 'Highball' bombing runs.
An air raid on a French Chateau (developing V1 style weapons in tunnels) can only be succeed by using the Highball, a land-based bouncing bomb able to avoid the defences. Throw in the French Resistance, dastardly Germans, a love sub plot and amnesiac officers, and it's a stirring tale of derring do with rather more ambition than its low budget could allow. Director Boris Sagal - The Omega Man (1971) was given The Thousand Plane Raid next, released the same year.

Artist: I Start Counting - Unknown / Mosquito Squadron - Robert McCall
Condition: VERY FINE
Cast: Jenny Agutter, Bryan Marshall, Clare Sutcliffe, Simon Ward (first major role) / David McCallum, Charles Gray, Suzanne Neve, Dinsdale Landen, Nicky Henson, Vladek Sheybal
---