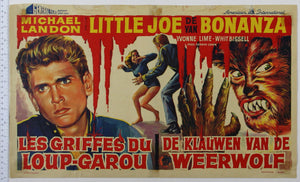 Horror Poster Emporium
I Was a Teenage Werewolf (1957 R62) Belgian Poster
Regular price
$96.00
$0.00
Tax included.
The first of Herman Cohen's four teenage monster films, in which innocent but troubled youths are manipulated and transformed by corrupt adults, to revert to their more bestial natures. It chimed with the teen threat of Rebel Without a Cause (1955) and James Dean '…Please lock me up. I'm going to hit somebody and I don't want to…'. Cohen just upped the ante to make them full-blown monsters, with I Was a Teenage Frankenstein, Blood of Dracula (both 1957) and How To Make a Monster (1958).

Whit Bissell played the mad doctor in both Werewolf and Frankenstein, and Michael Landon got his break, before TV snapped him up, where he worked continuously for thirty years, moving almost seamlessly from Bonanza to Little House on the Prairie to Highway to Heaven.
Artist: Unknown - the central stalking motif and claw tearing to reveal blood red is based on Reynold Brown's US 1 Sheet design, but the portrait and werewolf are original. Released later than in the US, so it was able to cash in on the Bonanza connection.
Condition: GOOD / VERY GOOD - adhesive bleed through (three top, three bottom) and sone edge dinks - trimmed at top
Cast: Yvonne Lime, Malcolm Atterbury, Guy Williams, Vladimir Sokoloff
---