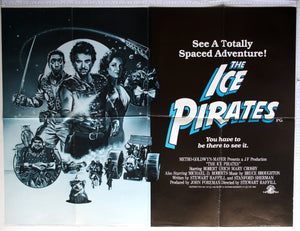 Horror Poster Emporium
Ice Pirates (1984) UK Quad Poster
Regular price
$33.00
$0.00
Tax included.
Comedy sci-fi that broke even, but fans still weren't ready for an overtly humorous take on their genre. The low budget is used inventively, with Robert Urich playing a lead role similar to Nathan Fillion in Serenity (2005), in a universe where water is the most precious commodity. And yes, they pull an Alien quote with a turkey dinner scene. However, a battle fought in an unusual 'time-paradox' with the cast rapidly aging is a particularly well achieved sequence.

Writer/Director Stewart Raffill went on to The Philadelphia Experiment, but precious little else.
Condition: VERY FINE  - small corner folds
Cast: Mary Crosby, and great support from Ron Perlman, John Carradine, Angelica Huston and Ian Ambercrombe.

---