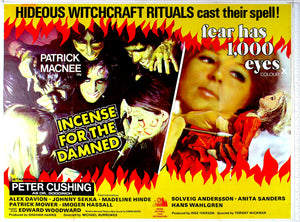 Horror Poster Emporium
Incense for the Damned / Fear Has 1,000 Eyes (1971 / 1970) UK Quad Poster
Regular price
£75.00
£0.00
Tax included.
Robert Hartford-David, the director of The Black Torment (1964), Corruption (1968) and The Fiend (1972) who ordered all prints of his films to be destroyed upon his death, turns Simon Raven's ascerbic 1960 novel Doctors Wear Scarlet into a confused tale of vampirism. Here, bloodsucking is a form of perversion afflicting 'frigid women and impotent men', although by the end, the gothic trappings of neck-biting and staking still dominate. The film boasts a top cast, but the shooting was fragmented (running out of money midway) and the result is half padding, half promising. Hartford-David was unhappy as usual, and was credited as Martin Burrowes.

The erotic horror film Fear has 1,000 Eyes is an ideal double bill companion - reputedly the first sex horror to come from Sweden. It blends sex, voodoo, sex and demonic witchcraft, with a smattering of sex for good measure.

Aka: Bloodsuckers, Suceurs de sang, Vampiros Del Sang / Skräcken har 1000 ögen, Sensuous Sorceress
Condition: VERY FINE - small dinks right hand edge. For some reason, this has always been difficult to find in such good condition.

Cast: Patrick Mower, Johnny Sekka, Peter Cushing, Patrick Macnee, Imogen Hassall, Edward Woodward, Valerie Van Ost / Hans Wahlgren, Solveig Andersson, Anita Sanders, who appeared in Fellini's Juliet of the Spirits (1965) The Violent Four (1968) for Alberto De Martino, Nerosubianco (1969) for Tinto Brass and Pasolini's The Canterbury Tales (1972).
---