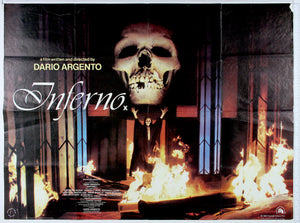 Horror Poster Emporium
Inferno (1980) UK Quad Poster
Regular price
£250.00
£0.00
Tax included.
Argento's even more dream-like follow up to Suspiria, which contains some of his most epic set pieces and innovative camerawork - the flooded ballroom sequence springs to mind. Future directors Michael Soave, Lamberto Bava and William Lustig all worked on it as production assistants, but Lustig failed to entice Daria Nicolodi to star in his Maniac, made later that year. 
Mario Bava came on board as special effects creator, and did some second unit directing when Argento was laid low with hepatitis, although Irene Miracle stated that almost all her scenes were directed by Bava himself.

Aka: Dario Argento's Inferno / Horror Infernal

Condition: FAIR / GOOD - Key defects, a large semi-circular tear on top left border, another tear into picture area in lower left, just below the 'I' of Inferno, and corner paper loss top right. There is a small fold tear top right. Tears are mended with tape to rear (see photo).
Cast: Leigh McCloskey, Irene Miracle, Daria Nicolodi, Eleonora Giorgi, Alida Valli
---