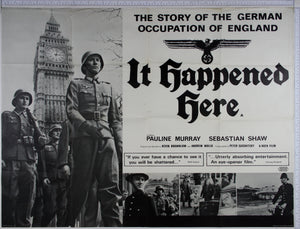 Horror Poster Emporium
It Happened Here (1965) UK Quad Poster
Regular price
$162.00
$0.00
Tax included.
Andrew Mollo and Kevin Brownlow's amateur masterpiece – the spectacular nature of this 'what if the Nazis invaded Britain?' was built up weekend by weekend, using film stock short ends and tireless volunteers. The accuracy of the costumes and hardware was due to the fact that they were real; Wermacht uniforms bought piecemeal by Mollo during shopping trips to France. Filming began in 1956, was completed in 1964 and released the following year. Brownlow was 19 and Mollo 16 when they started.

Various professionals, intrigued by the project gave help; voice over artists recreated their war newsreel personas, Kubrick donated film stock, Tony Richardson helped complete the finance. Above all else is the totally compelling central performance of (doctor's receptionist) Pauline Murray, and her eye-opening journey through the heart of British darkness.
Artist: Unknown - but the poster includes the seminal image of German troops marching past Big Ben - some of Mollo and Brownlow's stunts (a Trafalgar Square Nazi rally - shot with permission but footage stolen) was so large and alarming that permits to shoot in London were ever after more difficult to obtain!
Condition: FINE - creases and small dinks top and right edge

Cast: Pauline Murray, Sebastian Shaw, Bart Allison, Nicolette Bernard, Peter Dyneley

---