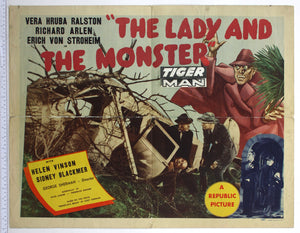 Horror Poster Emporium
Lady and the Monster (1944) US 1/2 Sheet
Regular price
£65.00
£0.00
Tax included.
Although it has a Tiger Man snipe for the later reissue (1946-48?) the poster itself seems to be from the original release.Not that any title would prepare you for this first incarnation of Curt Siodmak's Donovan's Brain, written a couple of years previously. Subsequent versions appeared in 1953 and 1962.

LIke Bela Lugosi, former Czech ice skater Vera Hruba Ralston had to learn her lines phonetically, yet her accent remained thick even so - the only one not to notice was head of Republic Pictures Herbert J Yates, who made an honest woman of her, but not an actress. How such a cinema legend as Erich von Stroheim ever wound up in a Republic Picture is for Hollywood to explain - he was, however, a perfectionist in the Michael Cimino mold, and the overspend and overshoots on his classic silents meant he lost creative control forever.
Aka: The Lady and the Doctor (UK), Tiger Man
Condition: GOOD - General grubbiness in borders, edge dinks, horizontal centre fold wear, bottom centre 1 1/2" fold tear (It looks as though the title was changed at the last minute, with even the 'R' of Monster needing touching up after the event), plus small Tiger Man snipe.

Cast: Vera Hruba Ralston, Erich von Stroheim, Richard Arlen - Island of Lost Souls (1932), The Crawling Hand (1963), The Human Duplicators (1965) and Sidney Blackmer, best known as Roman Castavet in Rosemary's Baby (1968).
---