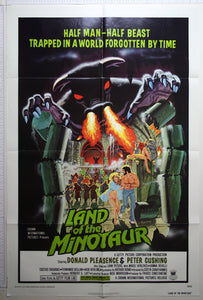 Horror Poster Emporium
Land of the Minotaur (1976) US 1 Sheet Poster
Regular price
$59.00
$0.00
Tax included.
Since director Kostas Karagiannis (here credited as Costas Carayiannis) had made two excellent and stylish giallos a couple of years previously, Death Kiss and Tango of Perversion (both 1974) he was evidently an acomplished filmmaker, although the vast majority of his output (173 films in a 30 year career) were only released in Greece.
Tourists are being abducted to be sacrificed to a Minotaur worshipping cult, led by the local Bishop (Cushing). An Irish priest tries to put a stop to proceedings in this Hellenic take on Captain Clegg, but despite some nice set (and poster) design, the pace is generally leaden.
Artist: Robert Tanenbaum
Aka: The Devil's Men, La secte des morts-vivants
Condition: FINE / VERY FINE
Cast: Donald Pleasence, Peter Cushing, Luan Peters - Lust for a Vampire, Twins of Evil (both 1971) The Flesh and Blood Show (1972), Jessica Dublin - the infamous Island of Death (1976) and eventually going onto multiple films for Troma.
---