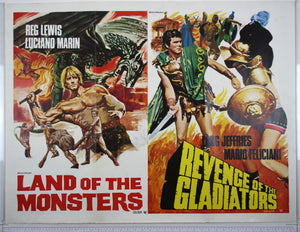 Horror Poster Emporium
Land of the Monsters / Revenge of the Gladiators (1962 / 1965 R75) UK Quad DB Poster
Regular price
£45.00
£0.00
Tax included.
Cunning repackaging of a decade old double bill. Land of the Monsters has strongman Maciste gets between the warring sun and moon tribes, who even enlist cannibals in their quest to find sacrificial victims. Played here by bodybuilder Reg Lewis, this was his only outing as a lead actor. It was also Margaret Lee's debut, going on to a long association with both Harry Alan Towers and Klaus Kinski.
Revenge of the Gladiators seems to be heading for a grim peplum ending, in which dependable muscle-bound Mickey Hargitay (Mr. Jane Mansfield) falls in love with a princess in the dying days of the Roman Empire. The rival for his affections (a Vandal) serves up his crucified body as a wedding present to his new wife, before being saved from certain death by the timely arrival of fresh Roman troops.
Artist: Unknown, but that dragon certainly seems familiar...
Aka: Colossus of the Stone Age, Maciste contro i mostri / Fire Over Rome
Condition: VERY FINE - (Rolled)

Cast: Margaret Lee - The Maniacs (1964) and Double Face (1969) for Fulci, Venus in Furs (1969) and The Bloody Judge (1970) for Franco, Luciano Marin, Andrea Aureli - Don't Torture a Duckling (1972) / José Greci whose film career was almost entirely peplum films, Livio Lorenzon, who made a fair few himself, plus The Good, The Bad, The Ugly (1966), Renato Baldini

---