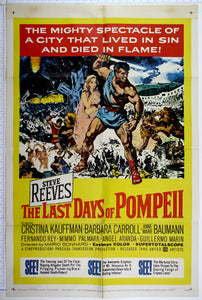 Horror Poster Emporium
Last Days of Pompeii (1959) US 1 Sheet Poster
Regular price
£45.00
£0.00
Tax included.
The peplum on which assistants Sergio Leone, Sergio Corbucci and Duccio Tessari came up with the idea of doing spaghetti westerns. The director of Pompeii, Mario Bonnard (an Italian film pioneer from 1908 as both matinee idol and director) fell ill early in the shoot - it was completed by Leone and co.

The seventh version of this title, it altered the source novel by introducing a persecuted Christians element, as well as adding some scenes requiring muscle, for Reeves was only cast a few weeks before shooting. His co-star and love interest was Christine Kaufmann - only 14 at the time. To add to the roster of future directors, Mario Bava was on the effects team as a Matte Painter.
Condition: FINE
Cast: Steve Reeves, Christine Kaufmann - Murders in the Rue Morgue (1971), Red Rings of Fear (1978), the extraordinary Fernando Rey, who made four classics with Luis Buñuel, Chimes at Midnight (1965) for Orson Welles, and 'Frog 1' in both French Connection films.
---