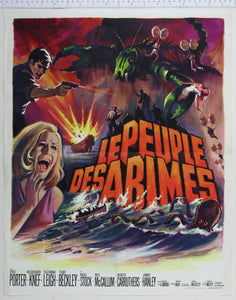 Horror Poster Emporium
Lost Continent (1968) French Petite Poster
Regular price
£65.00
£0.00
Tax included.
One of Hammer's maddest films (based on a Dennis Wheatley novel) the pivotal moment is when it shifts gear from a ship in peril (set adrift, Chinese cook goes insane) to carnivorous vegetation, (mad chef jumps overboard and is devoured) giant crab monsters, a ships' graveyard, balloons and snow shoes to get about – and, to be honest, no one expected the Spanish Inquisition.
Michael Carreras wrote and directed (taking over from Leslie Norman - Barry's dad, whom he fired), as another attempt to broaden Hammer's repertoire. Most of the company's artistic triumphs and fascinating failures can be laid at his door.
Artist: Unknown
Condition: VERY GOOD / FINE - light edge creasing

Cast: Eric Porter, Susanna Leigh, Tony Beckley, Hildegard Knef, the ever-dependable Victor Maddern and Michael Ripper, Jimmy Hanley (his final film) and a statuesque Dana Gillespie.
---