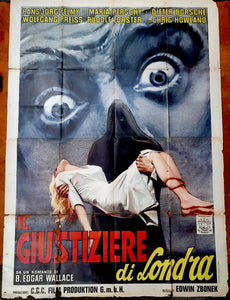 Horror Poster Emporium
Mad Executioners (1963) Italian 4 Foglio
Regular price
$72.00
$0.00
Tax included.
One of the few German krimi films to get a major distribution via Paramount Pictures, this work from Bryan Edgar Wallace combines a secret hard justice society hanging criminals who escape the law with a serial killer taking heads to power a robotic body. It's an uneasy meld, but the poster concentrates on the former storyline, with powerful artwork.
Condition: POOR - Require restoration. Multiple edge dinks and paper loss, fold separation with paper loss in bottom left hortixontal and vertical folds.
Cast: Hans Jorg Felmy, Maria Perschy - The Castle of Fu Manchu (1969), Dracula Versus Frankenstein (1970), Blue Eyes of the Broken Doll (1974), Dieter Borsche, Rudolf Forster.
---