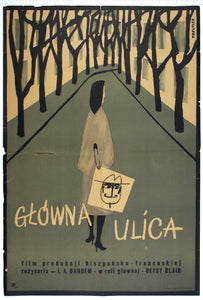 Horror Poster Emporium
Calle Mayor (1956) Polish Poster
Regular price
$227.00
$0.00
Tax included.
Juan Antonio Bardem (Javier's uncle) created what is, on the surface, Spain's first truly neorealist film, depicting the stultifying life of provincial post civil-war Spain. The milieu is everything, the bells tolling for mass, the nuns demanding a few pesetas to continue their work, the railway station where no one seems to leave. A group of bored middle-aged men play a trick on Isabel, an amiable spinster living with her widowed mother, (her father died in Franco's army). The youngest and most handsome of the men Juan, will pretend to fall in love with Isabel. Too late, Juan realises the cruelty of the joke, but as Isabel responds in the hope of finding love, he hasn't the nerve to tell her.
The political undercurrent – good men say nothing to allow evil to flourish – was picked up by the authorities, which forced the communist Bardem to finish the film in a variety of locations. But this remains his finest film, although he went on to a few genre entries – The Corruption of Chris Miller (1973) starring, of all people Barry Stokes, who appeared in two of Norman J Warren's films, Prey (1977) and Outer Touch (1979), and as the writer of The Bell of Hell (1973) with Viveca Lindfors. This film is infamous as the director Claudio Guerín fell from the bell tower on the last day of shooting; Bardem completed the film.
Aka: Main Street, Glówna Ulica, The Lovemaker

Artist: Jerzy Treutler - printed as though with poster paints on old paper
Condition: GOOD - multiple small edge tears and dinks, tear to left hand horizontal fold.

Cast: Betsy Blair (dubbed into Spanish by Elsa Fábregas), José Suárez, Luis Peña, Dora Doll, Lila Kedrova
---