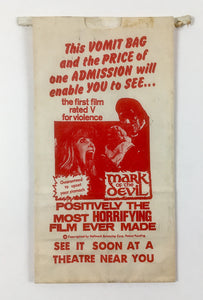 Horror Poster Emporium
Mark of the Devil (1970) Vomit Bag Giveaway - US Miscellaneous
Regular price
£115.00
£0.00
Tax included.
Well they aren't making any more of these... The most notorious exploitation gimmick from the 70s - the Mark of the Devil Barf Bag - the cover says it all. Although this is a 'used' item, you'll be pleased to know it's not 'actually' been used as intended... Proudly made by the American Bag and Paper Corp., these were handed out with the filmgoer's ticket and as promotional come-ons on the film's first run from Hallmark Releasing.
Michael Reeves was slated to direct, but after his death, Reeve's assistant Michael Armstrong on both Witchfinder General (1968) and this, took over. Some scenes were directed by Adrian Hoven, who took over completely on Mark of the Devil II (1973).
Condition: GOOD? - some marks at top, and right hand metal closer has some rust.
Cast: Herbert Lom, Reggie Nalder, Oliviera Katarina, Herbert Fux, Gaby Fuchs - The Werewolf and the Vampire Woman (1971)
---