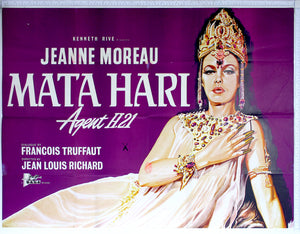 Horror Poster Emporium
Mata Hari, Agent H21 (1964) UK Quad Poster #New
Regular price
£55.00
£0.00
Tax included.
Jean-Louis Richard wrote some of Francois Truffaut's finest films - La peau douce (1964), Farenheit 451 (1966), The Bride Wore Black (1968) and Day For Night (1973) and here Truffaut returned the favour, co-writing the script. Richard's ex-wife Jeanne Moreau stars, with Jean-Louis Trintignant as the officer she is tasked to steal documents from, but falls in love with instead.
Richard skates the boundaries between the fluid movement of the New Wave and the formal tension of the thriller, and Truffaut (embroiled in his ground-breaking monograph on Hitchcock which would be published two years later) gleefully quotes some of the Master's signature tropes, a briefcase chained to a chair, stealing documents under the noses of enemy officers, and a tense border crossing.
Condition: FINE - some light edge wear, pinholes and ink transfer into some whites.

Cast: Jeanne Moreau, Jean-Louis Trintignant, Claude Rich, Henri Garcin, Hella Petri, Nicole Desailly
---