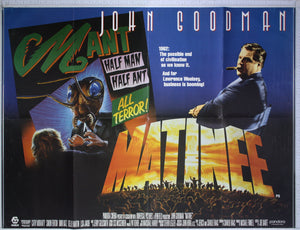 Horror Poster Emporium
Matinee (1993) UK Quad Poster #New
Regular price
£65.00
£0.00
Tax included.
Joe Dante's hymn to monster movies and producer William Castle's crazy gimmicks. With three competing storylines - the effect of the Cuban Missile Crisis ever present, a teen love story and John Goodman as Lawrence Woolsey, a brash showman arriving in Florida to premiere his latest sci-fi horror - Mant! (Half Man, Half Ant, All Terror), it sometimes gets crowded. But with its sweet nature, barrels of period laughs and subtle (and not so subtle) references to the movies of the day, it's one of Dante's most endearing films.
A copy of Famous Monsters of Filmland magazine is seen in the teen lead's bedroom - that particular issue has an article entitled 'Dante's Inferno', listing the fifty worst horror films ever. No guessing the identity of the 15 year old author (who went on to review regularly for Castle of Frankenstein).

Condition: VERY GOOD / FINE - slight creasing to left and right edges
Cast: John Hoodman, Cathy Moriarty, Simon Fenton, Lisa Jakub, Robert Picardo, Jesse White, Dick Miller, John Sayles, Naomi Watts (her debut, in one of the film-within-a-films).
---