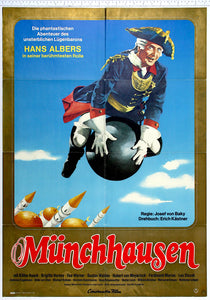 Horror Poster Emporium
Münchhausen (1943 / R78) German A1 Poster
Regular price
£55.00
£0.00
Tax included.
To celebrate the 25th anniversary of German studio UFA, Joseph Goebbels ordered this gaudy fantasy extravaganza, a perfect vehicle to display the recent colour film innovations at Agfa. Although Erich Kästner was a banned author in Nazi Germany, Goebbels gave special permission for him to write the screenplay anonymously. By framing the film as a reminiscence, he wrote something that ignored the war, and harked back to simpler, more idyllic times. The film was set in a modern day framing device, and covered the Baron's loves, duels, cannonball escape and trip to the moon.
Lead actor Hans Albers, a huge German star never allied himself publicly with the Nazi regime. He was left alone for some considerable time, especially considering he had a Jewish girlfriend, actress Hansi Berg. Finally he got her out first to Switzerland, then to England, where he still managed to send her funds. After the war, she returned to Germany in British uniform, where they were reunited. Trouper that he was, Albers collapsed on stage during a performance, and died shortly after, in 1960.
Condition: VERY FINE - the gold ink surround has a slightly mottled appearence, which seems to be a feature of the printing, rather than age.
Cast: Hans Albers, Ilse Werner, Brigitte Horney, Ferdinand Marian, Andrews Engelmann
---