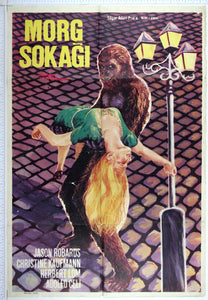 Horror Poster Emporium
Murders in the Rue Morgue (1971 / R73) Turkish 1 Sheet Poster
Regular price
£35.00
£0.00
Tax included.
More of a meld with Phantom of the Opera than a straight adaptation of Edgar Allan Poe's short story. A Grand Guignol theatre company's puts on Poe's story as real murders begin to thin the cast, and the heroine's nightmares of an insane axeman becomes confused with reality.
It's an unfairly neglected film with fluid, colourful direction from Gordon Hessler, who made the staid The Oblong Box (1969) before showing his talents on Scream and Scream Again and Cry of the Banshee (both 1970), and The Golden Voyage of Sinbad (1974).

Artist: Unknown - Turkish posters using elements from other films is common, but in this case, incredibly, apart from the perspectively-challenged backdrop, the entire ape and fainted woman design is stolen from John Landis' comedy Schlock (1973), which he played himself, under makeup by a young Rick Baker.

Condition: FAIR - pinholes and pinhole paper loss top tight, border damage and paper loss, heavy upper horizontal fold.
Cast: Jason Robards, Herbert Lom, Christine Kauffmann, Adolfo Celi, Maria Perschy, Lilli Palmer, Peter Arne and Brooke Adams making her feature debut.

---