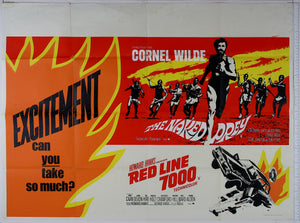 Horror Poster Emporium
Naked Prey / Red Line 7000 (Both 1965) UK Quad Poster
Regular price
£25.00
£0.00
Tax included.
Cheap local release double bill poster, doing neither film much justice. Cornel Wilde's savage chase thriller is mostly wordless, and all the more powerful for it. Directed by him as well, he was as much a Hollywood maverick as Cassavetes, but more cinematically rather than dialogue inclined. The Naked Prey was probably his finest example of that.
Red Line 7000 is not a good Howard Hawkes film, but from another director would have been happily seen as an romantic racing cars actioner. After his breakout part in Lady in a Cage (1964), this film helped cement James Caan as a leading man. But most importantly, it gives a great part to the queen of cult films, Marianna Hill as a speed junkie.
Condition: VERY GOOD - matching creases centre folds left and right, right hand edge dinks
Cast: Cornel Wilde, Gert van der Berg, Patrick Mynhardt, Ken Gampu / James Caan, Laura Devon, John Robert Crawford, Marianna Hill, Gail Hire, Skip Ward, Charlene Holt and George Takei.
---