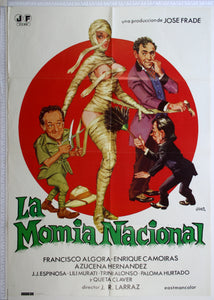 Horror Poster Emporium
National Mummy (1981) Spanish 1 Sheet Poster
Regular price
£35.00
£0.00
Tax included.
The National Mummy is one of the 'destape' genre (uncover) prevelant in Spain as the Franco regime and Catholic Church lost their iron grip from the mid 70s. They're a little baudier than the Carry On films, certainly more at home with casual nudity and more along the lines of Let's Get Laid or Rosie Dixon - Night Nurse (both 1978). 
Featuring some top Spanish comedians like Quique Camoiras (a short actor who often worked with oversized props to make himself seem even shorter) it's a surprise to find the film is directed by José Ramón Larraz, whose films mostly dwelt on sex and death. But as a former comics writer for Spirou and Pilote be was happy to play it as madcap farce, shoehorning in vampires and werewolves, while still retaining a few Larraz-like bloody touches.

Artist: Jano
Condition: VERY GOOD - creasing to borders

Cast: Francisco Algora, Azucena Hernández, Carlos Lucena, José Jaime Espinosa, Lili Muráti, Trini Alonso, Pilar Alcón. 
---