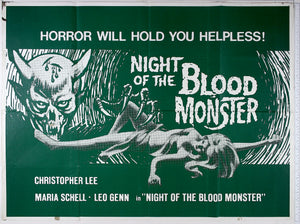 Horror Poster Emporium
Night of the Blood Monster (1970) UK Quad Poster
Regular price
£125.00
£0.00
Tax included.
Despite appearances, this is as much of a historical drama than a Mark of the Devil style horror, although torture scenes still abound. Jess Franco (credited here as J. Frank Manera) was working with a larger budget than usual, and with his frequent cinematographer Manuel Merino and a score by Bruno Nicolai, it's one of his most handsomely mounted films. A very low level UK release makes this a rare standalone quad poster.

Christopher Lee stars as Judge Jeffries (taking the name - if not the actions - of the 17th century 'Hanging Judge') who trades sexual favours from those he accuses of witchcraft, for pardons or political gain. Jack Ketch (the infamously incompetent public executioner) also puts in an appearance, and this Harry Alan Towers produced film managed to be an Anglo-American-Spanish-German-French-Italian affair. The kind of film Richard E Grant refers to as a 'Europud'.  
Artist: Judging from the size of the printing dots, this poster has been created from Ad Mat elements.
Aka: The Bloody Judge / Le Bûcher aux Sorcières / Der Hexentöter von Blackmoor

Condition: VERY GOOD / FINE - small edge dinks / tears, printing ink stains top left border and bottom left, transferring to bottom right. Small paper loss top right corner, staining to rear, only showing through just below demon's face at left.

Cast: Christopher Lee, Maria Schell, Leo Genn (who replaced Dennis Price, who had to withdraw due to ill-health), Maria Rohm, Hans Hass Jr, Margaret Lee and Howard Vernon on top leering form as Jack Ketch.
---