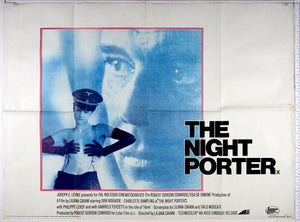 Horror Poster Emporium
Night Porter (1974) UK Quad Poster #New
Regular price
$97.00
$0.00
Tax included.
Liliana Cavani's controversial sado-masochistic drama, where a chance meeting at a hotel between the porter (a former SS officer) and a concentration camp survivor means they reenact their disturbing relationship. The former power-wielder, now a subserviant menial, finds himself in thrall to the woman who now holds all the power.
Just sidestepping accusations of Nazisploitation, it's superbly played by Dirk Bogarde and Charlotte Rampling, although nearly every key US critic detested it, Pauline Kael calling it a 'porno gothic'. 
Condition: VERY GOOD / FINE - minor edge and fold dinks, creasing. Semi-circular mounting marks top left and right, small centre right edge discolouration. Bottom right corner surface scuffs loses part of printer's credit.

Cast: Dirk Bogarde, Charlotte Rampling, Phillipe Leroy, Gabriele Ferzetti
---