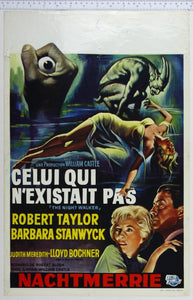 Horror Poster Emporium
Night Walker (1964) Belgian Poster
Regular price
£45.00
£0.00
Tax included.
The Night Walker is one of Castle's most nightmarish horrors, with wonderfully disorientating cutting from Edwin H. Bryant, Castle's in-house editor since The Tingler (1959). Barbara Stanwyck, in her final screen role, plays a woman on the edge, fighting with her blind, obsessively controlling husband, who proceeds to blow himself up in a laboratory experiment gone wrong. But still her dreams haunt her, a bizarre wedding ceremony peopled by waxworks and from which she can't escape.
Stanwyck does have a rather raucous pair of lungs on her, and her 'screams' are something else. But it's an enjoyably twisted tale, exploiting a welcome pairing with Robert Taylor. They hadn't played together since Lady of the Tropics (1936) and This is My Affair (1937).
Artist: Unknown, but using elements of Reynold Brown's work from the US posters. However, this combination of such surreal and gothic elements ranks as the most disturbing version.
Condition: VERY GOOD / FINE - Multiple pinholes creating corner damage, small paper loss in border to left of hand with eyeball 

Cast: Barbara Stanwyck, Robert Taylor, Judith Meredith, Hayden Rorke, Lloyd Bochner
---