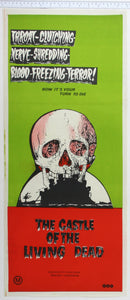 Horror Poster Emporium
Nothing But the Night (1973) Australian Daybill
Regular price
£45.00
£0.00
Tax included.
The US alternative title The Resurrection Syndicate may be more of a giveaway, but The Castle of the Living Dead? (This title was used in Canada as well). And having made such a point of the 'BLOOD-FREEZING TERROR!' it's odd that Lee and Cushing aren't more prominently credited. Although perhaps someone was concerned there would be confusion with the original The Castle of the Living Dead (1964) also starring Christopher Lee, and being the film with Donald Sutherland's triple-part feature debut.
Nothing But the Night was produced by Hammer regular Anthony Nelson Keys, who, with Lee founded Charlemagne Productions to make it, in the hope of trading on their genre success. However, the deal struck for distribution forced the budget down, with no second unit shooting, although Dartmoor doubling for Scotland works surprisingly well. Based on John Blackburn's book of the same name (the British Stephen King) the script has the same failing as the book, in that it has a slow build-up to a rushed climax.
The budget was sufficient to attract a top cast however, as well as director Peter Sasdy (Taste the Blood of Dracula, Hands of the Ripper, Doomwatch). Peter Cushing made countrywide appearances to help promote the film for his old friend, but to no avail. The film performed poorly, and Charlemagne made no more films.
Condition: FINE - ink transfer in left hand border as printed

Cast: Christopher Lee, Peter Cushing, Diana Dors, Georgia Brown, Keith Barron, Gwyneth Strong, Michael Gambon, Kathleen Byron - from the mad nun in Black Narcissus (1947) to Night of the Eagle (1962), Twins of Evil (1971), Craze (1974) and having practically the only female speaking role in Steven Spielberg's Saving Private Ryan (1998).
---