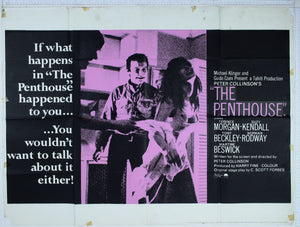 Horror Poster Emporium
Penthouse (1967) UK Quad Poster #New
Regular price
£35.00
£0.00
Tax included.
The Penthouse
was 28 year old Peter Collinson's first film, made for about £50,000 in just over three weeks, and based on a 1964 play
The Meter Man
by Scott Forbes. It's a
highly underrated English cult classic starring Terence Morgan as an adulterous estate agent, who, with his lover Suzy Kendall is disturbed at their borrowed penthouse. A Pinteresque home invasion results in Morgan tied to a chair as the two thugs violate Kendall. They finally leave, and the couple are torn about reporting it, as their affair would be discovered. Harry arrives, announcing that she is Tom and Dick's parole officer, but the two men enter the flat behind her, and the horror begins again.
Aka: ,
Condition: FAIR / GOOD - Tape residue around edges, paper loss at corners, general wear and tear to borders, scuff mid left. Picture area VERY GOOD - FINE
Cast: Tony Beckley - The Lost Continent (1968), When A Stranger Calls (1973), Norman Rodway and a sadistic Martine Beswick - Dr Jekyll & Sister Hyde (1971), Seizure (1974).
---