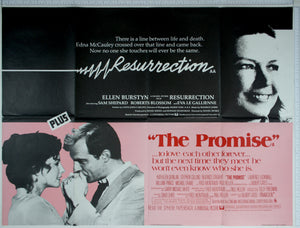 Horror Poster Emporium
Resurrection / The Promise (1980 / 1979) UK Quad Poster
Regular price
£35.00
£0.00
Tax included.
For a film that garnered two Oscar nominations, Ellen Burstyn for Best Actress and Eva La Gallienne for Best Supporting Actress (she held the record for oldest nominated actress until Gloria Stuart in 1997) this film has been unjustly neglected.
After a near fatal car crash, Edna dies and is resuscitated, but finds herself with the power to heal physical afflictions. The film also features an early performance from a startlingly young-looking Sam Shepard. Written by polymath Lewis John Carlino, who bounced from projects like The Mechanic to The Sailor Who Fell from Grace with the Sea and I Never Promised You a Rose Garden.

Doubled with The Promise, a car crash love story that riffs on Random Harvest and The Enchanted Cottage. One of those romances with a hard core fan club, starring Kathleen Quinlan and Stephen Collins.
Aka: / Face of a Stranger
Condition: VERY GOOD / FINE

Cast: Richard Farnsworth, Jeffrey DeMunn, Robert Blossom, Lois Smith / Beatrice Straight, Laurence Luckinbill
---