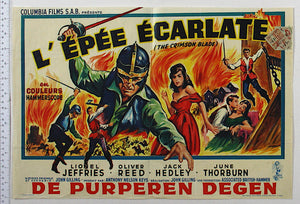 Horror Poster Emporium
Scarlet Blade (1963) Belgian Poster
Regular price
£35.00
£0.00
Tax included.
Ignoring the Hammer films tag, this is as rousing a period swashbuckler one could expect from any studio, with some of the best fight scenes Hammer produced. Director John Gilling had been Hammer's go-to director for their less gothic projects, but The Flesh and the Fiends (1960), Fury at Smugglers' Bay (1961) and The Pirates of Blood River (1962) were perfect dry runs for this.
The Scarlet Blade is a Royalist hiding - Robin Hood style - in the forests, just beyond the reach of Colonel Judd's Roundhead headquarters. His own daughter loves the dashing Blade, and ignores the increasingly lovelorn Captain Sylvester, played by a suitable smouldering Oliver Reed. One of only a few Civil War set films, it's due a reappraisal away from the baggage Hammer Films brings. It wasn't long before Gilling was initiated into the horror genre with his Cornish pair, The Reptile and Plague of the Zombies (both 1966).

Aka: The Crimson Blade
Condition: GOOD / VERY GOOD - edge dinks, strengthening tape to rear centre folds, trimmed at top.

Cast: Lionel Jeffries, Oliver Reed, Jack Hedley - Witchcraft (1964), The Anniversary (1968), The New York Ripper (1982), June Thorburn - The Three Worlds of Gulliver (1960), Fury at Smugglers' Bay (1961), Michael Ripper, Suzan Farmer - Monster of Terror (1965), Dracula: Prince of Darkness (1966).
---