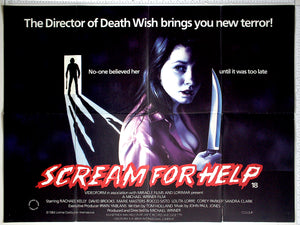 Horror Poster Emporium
Scream for Help (1984) UK Quad Poster
Regular price
$46.00
$0.00
Tax included.
Writer Tom Holland was on a successful run, with The Beast Within (1982), Class of 1984 (1982) and the well-received Psycho II (1983). Scream for Help came next, before he hit the franchise stratosphere with Fright Night (1985) and Child's Play (1988). It was to have been directed by Richard Franklin, but instead fell into the hands of Michael Winner, whose touch was less than sure with such an inexperienced cast.
Rachael Kelly (an actress briefly on As the World Turns, 1978 - 1979) whose only feature this was, plays a young girl who discovers her stepfather is planning to murder her and her mother, but can convince no one of the plot. Her shrill, one note performance leaves you wishing the stepfather succeeded, but double and triple crosses abound in an overly convoluted plot. The film has a curious mix of New York and British-based (often Canadian) actors, as Winner shot exteriors in the US, and interiors in London.
Aka: La Casa in Hell Street, La Dernière Victime
Condition: GOOD - 1 1/2 inch tear along bottom right fold, some distress along horizontal fold, and less on vertial fold lines.
Cast: Rachael Kelly, Marie Masters, David Allen Brooks, Lolita Lesheim, Corey Parker
---