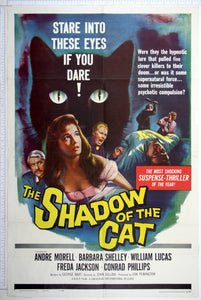 Horror Poster Emporium
Shadow of the Cat (1961) US 1 Sheet Poster
Regular price
£150.00
£0.00
Tax included.
Stunning black and white photography by Arthur Grant, whose colour work for Hammer - Curse of the Werewolf (1961), Gilling's Cornish pair Plague of the Zombies and The Reptile (both 1966) and the glorious Quatermass and the Pit (1967) was legendary. Essentially made by Hammer, although credited to BHP, a murdered rich woman is avenged by her cat, even as the killers try to kill it - the only witness.
Writer George Baxt was responsible for some of the greatest early 60s horrors, Circus of Horrors and Horror Hotel aka City of the Dead (both 1960) and the extraordinary Night of the Eagle (1962).
Condition: VERY FINE
Cast: André Morell - Watson to Cushing's Holmes in The Hound of the Baskervilles (1959), horror queen Barbara Shelley, Freda Jackson - everything from Powell's A Canterbury Tale (1944) to The Brides of Dracula (1960) and witches in both The Valley of Gwangi (1969) and Clash of the Titans (1981), William Lucas, Conrad Phillips, Catherine Lacey - a nun in Hitchcock's The Lady Vanishes (1938), Pink String and Sealing Wax (1945), The Mummy's Shroud and The Sorcerers (both 1967).
---