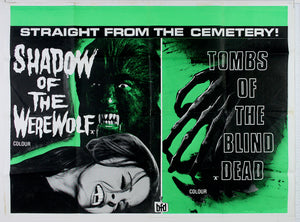 Horror Poster Emporium
Shadow of the Werewolf / Tombs of the Blind Dead (1971 / 1972) UK Quad Poster
Regular price
£175.00
£0.00
Tax included.
Shadow of the Werewolf features Paul Naschy (he co-wrote the screenplay) with his monster mash-up, as the owner of a castle coming to the aid of two young women who have inadvertently awakened a female vampire. How can he help? Well, by turning into a werewolf to do battle. The film did so well across the world that it reinvigorated the Spanish horror boom, and the fabulous gothic mood Argentinian director León Klimovsky evokes, is accentuated by his use of slow motion to emphasise the other-wordly atmosphere.

Tombs of the Blind Dead is director (and co-writer) Amando de Ossorio's first of the Blind Dead series, with Return of the Blind Dead (1973), Ghost Ships of the Blind Dead (1974) and Night of the Seagulls (1975) to follow.
Aka: La noche de Walpurgis, The Werewolf versus the Vampire Woman, Nacht der Vampire, La Furie des vampires / Tombs of the Evil Dead, La Révolte des Templiers, La révolte des morts-vivants
Condition: VERY GOOD / FINE - slight staining around all borders, diagonal creasing centre left border.
---