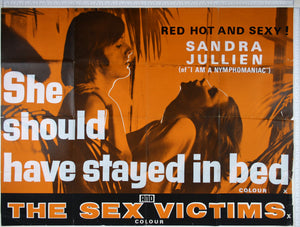 Horror Poster Emporium
She Should Have Stayed in Bed / Sex Victims (1972 / 1973) UK Quad Poster
Regular price
£95.00
£0.00
Tax included.
 A Max Pécas film with Sandra Julien, star of Jean Rollin's Le Frisson des Vampires / Sex and the Vampire (1971). She plays a young girl raped by two 'friends' which leaves her with no interest in sex - the film details her eventual sexual awakening. 
The support is an infamous British short - The Sex Victims, written, produced and directed by Derek Robbins, starring Ben Howard as a lorry driver haunted by a girl he glimpses, only to learn she died weeks earlier. Editor Peter Austen-Hunt had cut early nudie films for Michael Winner - Some Like it Cool (1961), Malcolm Leigh's Games That Lovers Play (1971) more famous for Joanna Lumley's early lead, and White Cargo for Ray Selfe.
Aka: I am Frigid... Why?
Condition: VERY GOOD - Bottom edge small tears / dinks
Cast: Sandra Julien, Marie-Georges Pascal, Jean-Luc Terrade, Catherine Wagener / Alun Armstrong, Felicity Devonshire, Jane Cardew - a veteran of Pete Walker's Four Dimensions of Greta and The Flesh and Blood Show (both 1972).
---