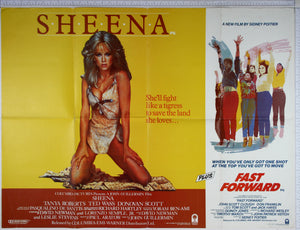 Horror Poster Emporium
Sheena / Fast Forward (1984 / 1985) UK Quad Poster
Regular price
£25.00
£0.00
Tax included.
After Charlie's Angels (1980-81) Tanya Roberts made a number of genre films in an attempt consolidate her career. After all, she had form with the incredible Tourist Trap (1978) so The Beastmaster (1982) which tapped into the sword and sorcery vogue was a good move, and her Beastmaster nude spread in Playboy magazine didn't hurt either. Next came Sheena, and with Towering Inferno (1974) and King Kong (1976) director John Guillermin on board, as well as writers of the calibre of Lorenzo Semple Jr. - Three Days of the Condor (1975), Never Say Never Again (1983) and David Newman (Superman I, II and III) it must have seemed like a slam dunk.
The reaction was more than a nightmare – a $25 million budget returned just over $5 million worldwide. Only the almost simultaneous worldwide release dates of this and the Bond picture A View to A Kill (1985) kept Roberts in the running, but by the early 90's she had started on a run of 'erotic thrillers' like Night Eyes and Inner Sanctum that spelled the end. Sheena pretty much put paid to Guillermin's career too.
Billed with Fast Forward, a Sidney Poitier directed film, in which eight hopefuls from Ohio entering a New York dance competition have to wait before they can perform, and learn about life and love in the meantime. It's been remade in Bollywood twice.
Aka: Sheena: Queen of the Jungle
Condition: VERY GOOD - glossy paper stock

Cast: Ted Wass, Princess Elizabeth of Toro, Donovan Scott, John Forgeham
---