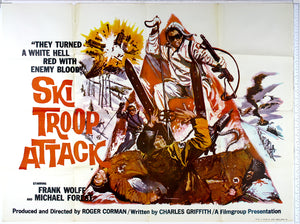 Horror Poster Emporium
Ski Troop Attack (1960) UK Quad Poster
Regular price
£65.00
£0.00
Tax included.
For a U certificate film, the savagery on display in this Roger Corman Ski Troop Attack poster must have been courtesy of the popular War Picture Library comic book series (over 2000 issues from 1958) to have been acceptable - bullet-ridden bodies and all. The war had only been over 15 years, after all. Written by Charles B. Griffith -  director Corman's in-house writer his whole career - it's a behind enemy lines reconnaissance mission which ends in the demolition of a railway bridge. Corman used high school ski teams, and consequently could only shoot after school or on weekends.

To save on costs, Corman filmed in Deadwood, North Dakota with a cheaper local (Chicago) crew, and made Beast from Haunted Cave (1959) at the same time, utilising the same cast. Jazz cellist Fred Katz used his music for A Bucket of Blood (1959), presenting it as a new score - the same music appeared in a total of seven Corman productions.
Condition: VERY GOOD / FINE - small edge dinks, paper loss on top left vertical fold, with some fold wear and discolouration.

Cast: Michael Forest, Frank Wolff, Wally Campo, Richard Sinatra (Frank's cousin), James Hoffman and a cameo from Roger Corman.
---