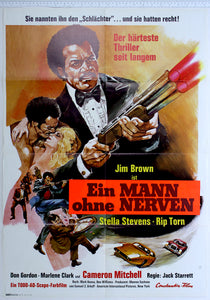 Horror Poster Emporium
Slaughter (1972) German A1 Poster #New
Regular price
£35.00
£0.00
Tax included.
Actor / director Jack Starrett had 'Exploitation' running through him like a stick of rock. Or in this case, Blaxploitation, as he harnesses former football legend Jim Brown - Riot, 100 Rifles (both 1969), I Escaped from Devil's Island (1973) in a role that was a huge hit for AIP and spawned a sequel, Slaughter's Big Rip-Off (1973). Brown plays an ex-Vietnam Green Beret, who takes on the mob with explosions, car chases and his trusty shotgun, set to a killer score by Luchi De Jesus and a charting theme song by Billy Preston.

Starrett started out as actor in biker movies, Hells Angels on Wheels, The Born Losers (both 1967) and Hell's Bloody Devils (1970) before combining acting with directing, making Nam's Angels (1970), The Strange Vengeance of Rosalie (1972), Cleopatra Jones (1973) and Race with the Devil (1975) amongst other film and TV work. His acting continued - he'll be long remembered as Sergeant Galt in First Blood (1982).
Condition: VERY FINE (Snipe over original title reads A Man Without Nerves)
Cast: Jim Brown, Stella Stevens - The Mad Room (1969), The Manitou (1978), Chained Heat (1983), Rip Torn, Cameron Mitchell, Marlene Clark - Night of the Cobra Woman (1972), The Beast Must Die (1974).
---